Pure Multi-Family REIT LP
Pure Multi-Family REIT LP was a Canadian-based publically traded REIT LP which offered investors exposure to attractive institutional quality U.S. multi-family real estate assets, from its IPO in January 2012 until its sale in September 2019.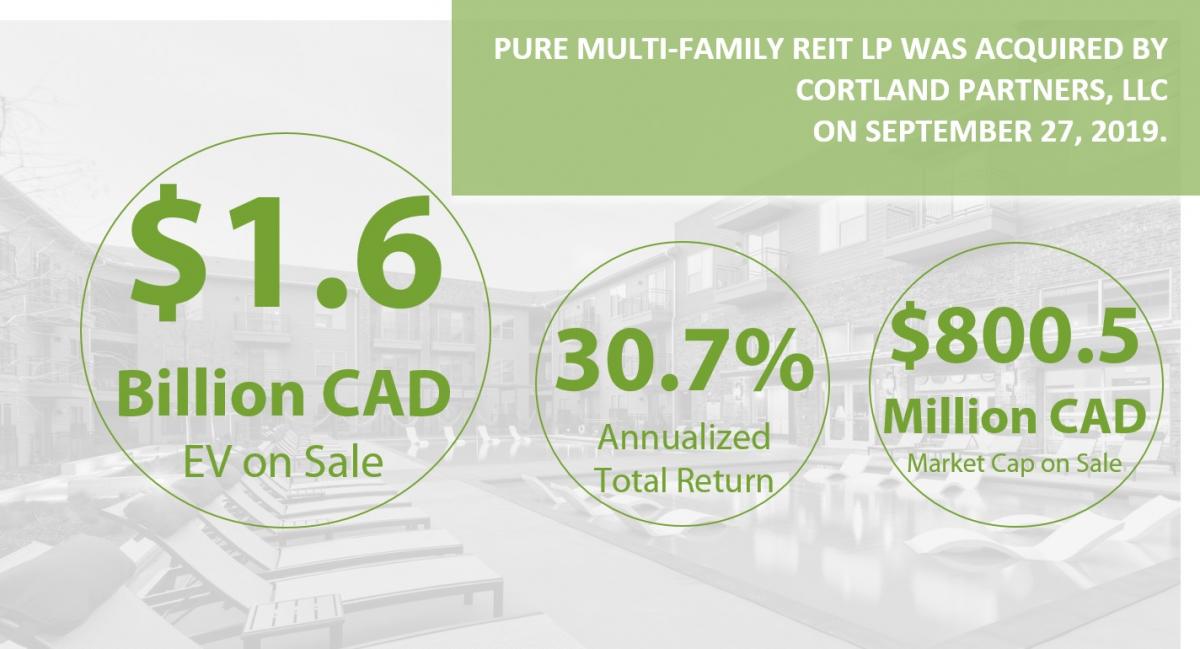 TOTAL RETURN PERFORMANCE

CLASS A UNITS
Until its sale on September 27, 2019, Pure Multi-Family: 
Traded on the Toronto Stock Exchange under the symbol of RUF.U in USD and under the symbol RUF.UN in CAD;
Pure Multi-Family's Class A units also traded on the OTCQX under the symbol PMULF.
ACQUISITION STRATEGY
Pure Multi's core strategy was to invest in quality multi-family real estate properties in major markets in the United States. We believed that superior returns were achieved by targeting such properties because of the stable income provided by the multi-family property market in the United States, the abundant supply of such properties at attractive price levels, and the emerging recovery of the U.S. economy.
Pure Multi believed that the opportunity exists to acquire multi-family properties at attractive prices with in-place rental rates which were reduced during the recent economic downturn, providing the potential for strong growth in rental rates. We acquired properties in clusters and chose asset sizes which ensured regional economies of scale and geographic diversification in our portfolio.
Acquisitions were in the $10 to $60 million range per property. Pure Multi focused on acquiring multi-family properties which were constructed or refurbished in 1990 or later and which are located in markets with strong employment growth, which exhibited ongoing strong occupancy, which complement the initial portfolio and which had the potential to create additional value. We sought to acquire properties that were in good to superior physical condition with little to no deferred maintenance.
DIVESTED PROPERTIES
PURE FILLMORE APARTMENTS
PHOENIX, AZ

Developed in 2016, PURE Fillmore Apartments is an institutional quality multi-family asset comprising 230 units with an average unit size of 934 square feet.
MAP
MEDIA
Pure Multi Family REIT LP opens Toronto Stock Exchange, June 21, 2019
Pure Multi-Family REIT LP (TSXV: RUF.UN) - 2019 TSX Venture 50
Pure Multi-Family REIT
Jaime Carrasco of Canaccord Genuity gives his outlook for shares of Pure Multi-Family REIT