Acquisition Strategy
Pure Multi's core strategy was to invest in quality multi-family real estate properties in major markets in the United States. We believed that superior returns can be achieved by targeting such properties because of the stable income provided by the multi-family property market in the United States, the abundant supply of such properties at attractive price levels, and the emerging recovery of the U.S. economy.
Pure Multi believed that the opportunity existed to acquire multi-family properties at attractive prices with in-place rental rates which were reduced during the recent economic downturn, providing the potential for strong growth in rental rates. We acquired properties in clusters and chose asset sizes which ensured regional economies of scale and geographic diversification in our portfolio.
Acquisitions were in the $10 to $60 million range per property. Pure Multi focused in acquiring multi-family properties which were constructed or refurbished in 1990 or later and which were located in markets with strong employment growth, which had exhibited ongoing strong occupancy, which complemented the initial portfolio and which had the potential to create additional value. We sought to acquire properties that were in good to superior physical condition with little to no deferred maintenance.
  Proximity to Work

High-growth submarkets often within close proximity to high quality employers.

  Property Amenities

Club areas for entertaining, resort-style swimming pools, 24-hour gyms and pet friendly environments.

 

  Neighbourhood Amenities

Coffee houses, night clubs, entertainment venues and restaurants.

  Outdoor Recreation

Biking, hiking, running, parks, golf courses and nature preserves.

 
Co-founder, DARREN LATOSKI (1969 - 2013)
On September 9, 2013, Pure Multi announced the sudden passing of co-founder and Executive Chairman, Darren Latoski. Darren co-founded Pure Multi and raised $50 million of equity capital for Pure Multi's IPO in July 2012. Darren fought a valiant battle with cancer and was active in his role with Pure Multi until his death. He was one of Canada's most successful young entrepreneurs and will be deeply missed by family, friends and colleagues alike.
MAP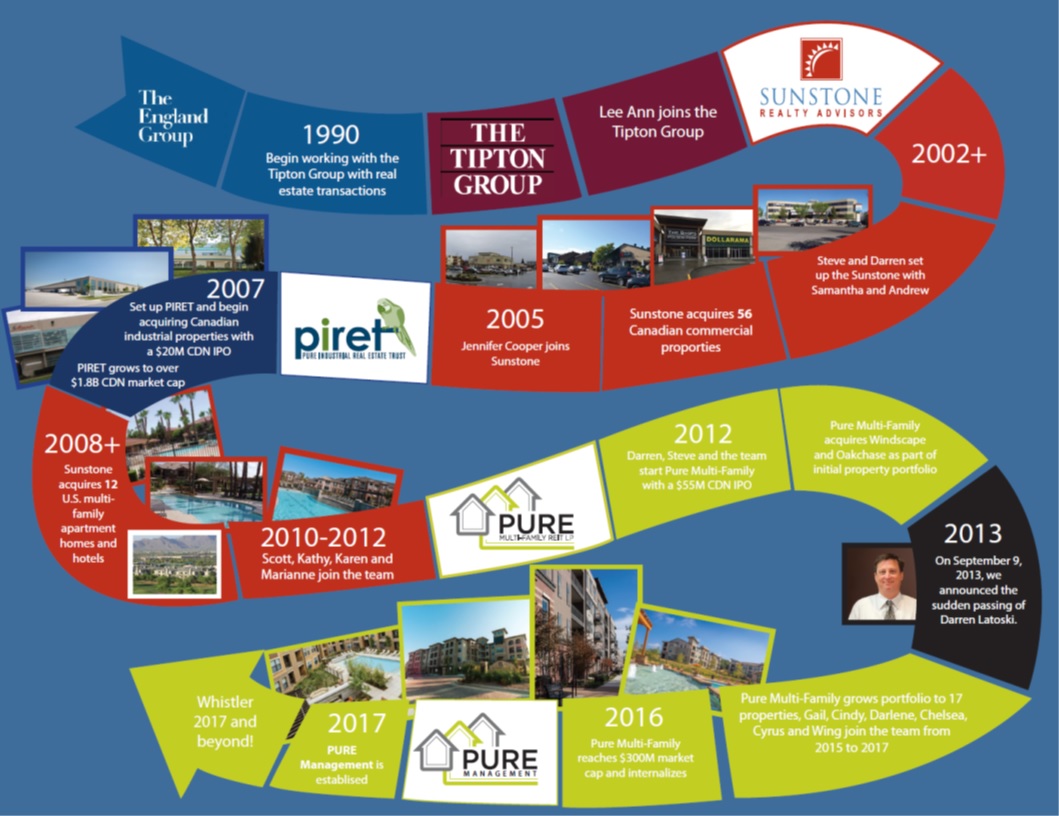 SUNSTONE 
The '90's at The England Group.  Castlewinds:  Sunset Oaks;  Southern Hills;  Fossil Hill;  Briarcrest;  Tallows;  Tall Timbers;  Vanderbilt;  Fieldcrest;  Huntington Glen;  Arbor Valley;  Cypress Lake.
Met Bryan Kerns, President of The Tipton Group.
Sunstone Re-Entered the US Market in 2008 -2009.
In 2008, the Sub-Prime Bubble Burst leading to crashed values in real estate sector and beyond.  Sunstone raised 4 US Funds and acquired 9 Apartment Communities and 3 Hotels.  Used an abnormally strong C$ to buy US real estate that was on sale.
 
PURE INDUSTRIAL REAL ESTATE TRUST (PIRET)
PIRET was a Canadian-based publically traded Trust from its IPO in 2007 until its sale to Blackstone and Ivanhoe Cambridge for CDN$3.8 Billion in May, 2018.
Decided on a Sector & Theme, Pure Industrial Real Estate Trust was to be its name, or the acronym: PIRET (pronounced "PIRATE"), Trading symbol:  AAR.U
Called a Meeting of the Professionals – Lawyers and Tax Accountants to discuss our detailed business plan to launch a new Industrial Property REIT on the TSX.
$20 million IPO on the TSX in 2007 – owned 6 Industrial assets.
Until its sale, owned 160 Industrial Assets across North America totalling over CDN$1.8 Billion. 
PURE MULTI-FAMILY REIT LP
Pure Multi-Family REIT LP was a Canadian-based publically traded REIT LP which offered investors exposure to attractive institutional quality U.S. multi-family real estate assets, from its IPO in January 2012 until its sale in September 2019.
Pure Multi-Family focused on acquiring luxury resort-style apartment communities in the major markets of the U.S. Sunbelt, dynamic economies that consistently ranked highly for both job and population growth.
The strong growth in the U.S. Sunbelt provided the opportunity for our investors to participate in an asset class that generated above average revenue growth and stable distributions.
Source: Bloomberg as at May 9, 2019. Note: Prior to the launch of the C$ ticker on July 2, 2014, the C$ values were calculated based on the US$ ticker converted at the daily spot exchange rate.
Pure Multi-Family's trust units were dually listed RUF.U (USD) and RUF.UN (CAD) on the Toronto Stock Exchange, providing investors with the option of holding units in either currency.
TARGET MARKET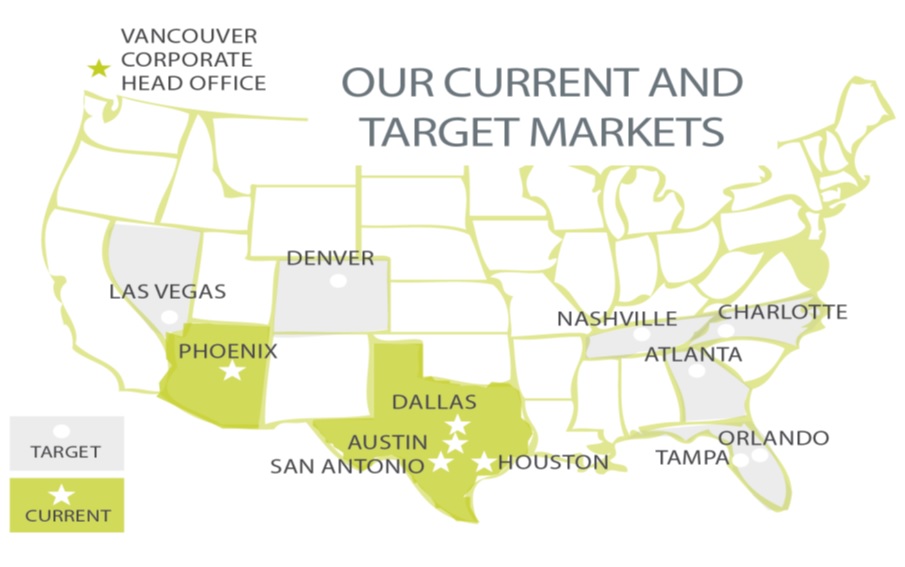 BRAND
We are still in the early stages of building our reputation and our Brand into something that we can all be proud of.
"Whatever you do, do it well. Do it so well that when people see you do it, they will want to come back and see you do it again, and they will want to bring others and show them how well you do what you do."  
(Walt Disney)
 
PROPERTY MANAGEMENT INTERNALIZED IN 2017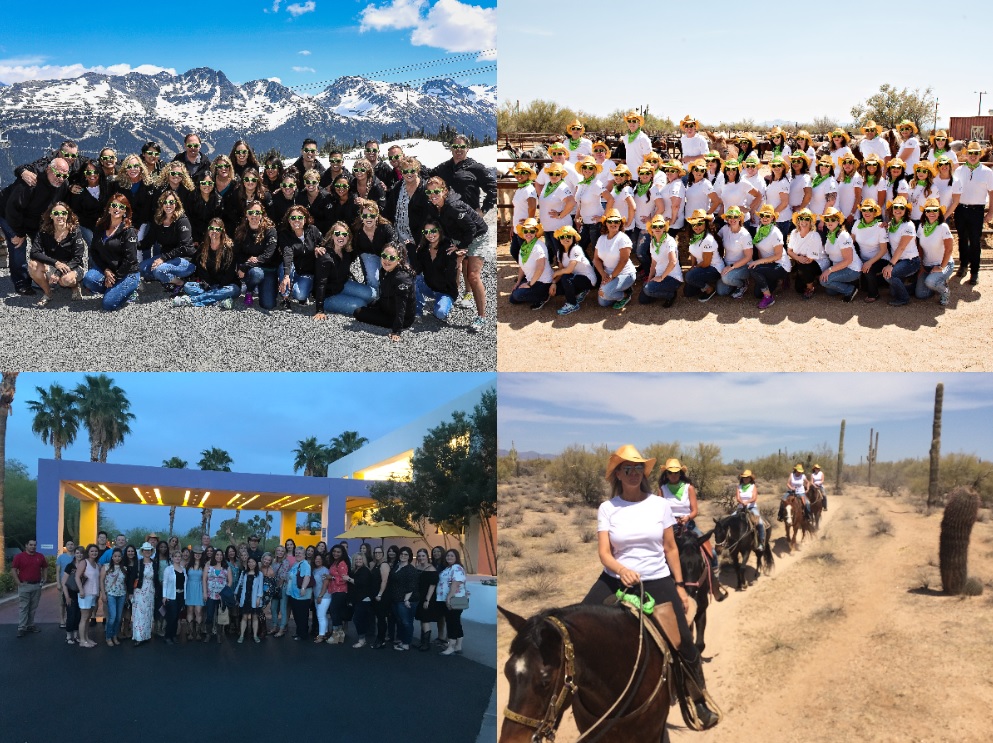 VALUES
One Big Family;
People Business – therefore Our People are the Key to Our Success;
Honesty, Integrity, Caring, Safety;
Have Fun – be engaged, entrepreneurial, take ownership; 
Make a Positive Difference.
PURE GIVING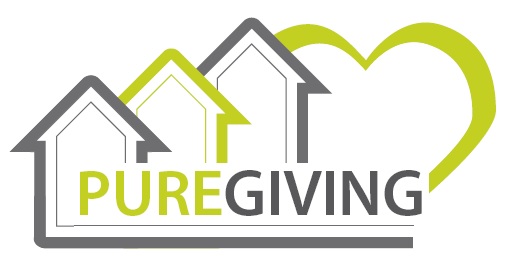 PURE Giving Initiatives:
Helping People In Need; 
Annual Charitable Giving focused on local people in need;
Christmas Family sponsor – gifts and groceries;
Steering Committee directing the team and allocating our resources to various good causes;
Team time contributions;
Encourage Adopting similar programs at each Community.